Chief Content & Operations Officer at Agile Impact Group
A seasoned leader with 10+ years of agency experience crafting content for clients, from strategy to execution.
Content strategy and creation, brand communications, and digital asset management
I am the Chief Content & Operations Officer at Agile Impact Group, a Seattle-based brand management firm. I have a strong background in and love for writing, and I began my career at Agile as a copywriter in 2012. In my current role, I am involved in content at every step of the process, from strategy to execution.
I have directly created or overseen the planning, creation, and publication of content in its many forms, including social media posts, advertisements, product descriptions, email newsletters, blog posts, website copy, white papers, case studies, professional trainings, content strategies, brand guides, and more.
My clients range across a variety of B2B and B2C sectors, including healthcare, oncology, health & wellness, retail, food & beverage, venture capital, solar energy, and politics. I have worked with clients in all sizes and forms: individuals, sole proprietorships, small businesses, government agencies, educational institutions, and Fortune 100 companies. 
Chief Content / Operations Officer @  Agile Impact Group  /  2015 to Present
Content strategy and creation, brand communications, website management and digital asset management. Work with brands to create and implement professional trainings, content and social media strategies, digital communities, and product rollouts. Develop iterative, sustainable, and transparent processes for project management. 
Content Director @  Agile Impact Group  /  2014 – 2015
Lead the Content Team, overseeing a small team of contract writers, community managers, and social media strategists. Create and manage social media campaigns and content strategies for clients. Grow and develop in-house social media and content team. Hire and train new employees. Develop training programs for Agile Impact and clients.   
Senior Content Manager @  Agile Impact  / 2013 – 2014
Craft compelling content for a variety of client projects and internal initiatives, including the management of dozens of websites and blogs and associated social media channels. Grow content-related client offerings.
I graduated magna cum laude from the University of Idaho with a BA in English and Secondary Education. While in school, I was active in leadership roles in my sorority (Kappa Delta), participated in extracurricular activities, as a student liaison for First Book, and received top honors within the English department. Born and raised in Boise, Idaho, I earned my diploma from Boise High School.
Education is not always represented by diplomas and certificates; I strongly believe in being a lifelong learner. Since receiving my degree, my skillset has expanded significantly–and I don't plan on ever stopping. 
Design and completion of content marketing strategy for clients across a variety of industries. Above is a sample of the semi-templated content strategy I created, though every client is unique. These strategies are holistic and include client goals, messaging, personas, KPIs, content audits, competitor research, keyword strategy (based on keyword research), plan for governance and execution, and more.
In 2022, one of my clients requested me as a featured speaker at a conference for marketing professionals who execute the marketing efforts of community-based oncology practices. The practices ranged in size from 5 physicians to 500 physicians. The above is a small sample of the presentation I gave, which focused on using data & SEO to enhance marketing effectiveness.
I am the lead designer for any web projects that we take on, designing any assets that may be needed as well as creating wireframes and mockups prior to site build. In many cases, I also write and/or optimize copy for all pages of the new website in collaboration with our lead SEO.
I have contributed to internal marketing efforts for Agile Impact, including mocking up landing page designs for our web developer to build.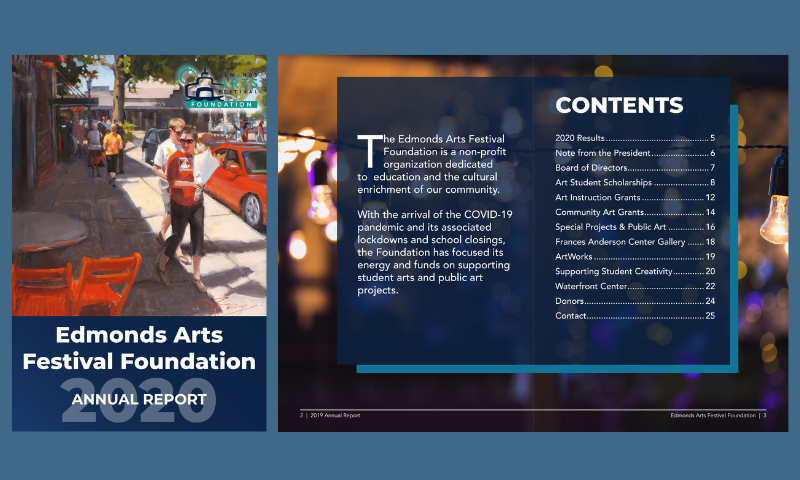 We worked with a local Seattle nonprofit for several years and were charged with redesigning the annual report to look more modern, better reflect the current brand, and provide clear reporting on the previous year. I led this project, redesigning the report from the ground up.